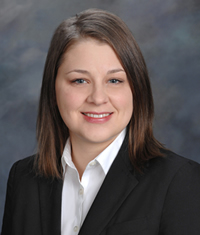 Amanda E. Melrood is an associate at McCoy Leavitt Laskey LLC specializing in civil litigation. Prior to joining McCoy Leavitt Laskey, she clerked for the Honorable David A. Hansher of the Milwaukee County Circuit Court, gaining valuable insight into the inner-workings of a courtroom. Amanda has extensive experience in legal research, writing, and case analysis, and is a zealous litigator.
Amanda graduated cum laude from the University of Wisconsin Law School in 2014 where she competed in the Thurgood Marshall Moot Court Competition, coached a team for the National Moot Court Competition, won the Wisconsin State Bar Environmental Law Section's Writing Competition, and received the Sonnet Schmidt Edmonds Award for excellence in energy law. While at Wisconsin Law, she interned with the U.S. Attorney's Office for the Western District of Wisconsin. Her studies focused on civil litigation with an emphasis on tort, land use, and environmental issues.
Amanda graduated summa cum laude from Beloit College in 2009 with a bachelor's degree in Psychology and Acting. She is a member of Phi Beta Kappa.
She is a member of the Wisconsin State Bar.