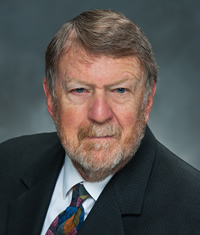 During a 21-year period, Harvey practiced primarily on property loss subrogation litigation resulting from fires, floods, explosions and product failures. He had a self-described litigation "specialty" arising from mechanical or electrical failures of power generating turbines, generators and transformers.
A major highlight of Harvey's career was his service as a judge on the New Mexico Court of Appeals in the latter 1980's. While on the bench he participated in several hundred civil, criminal and administrative cases. Approximately 60 of his authored opinions were appealed to and affirmed by the New Mexico Supreme Court. In each of the instances in which he did not agree with the majority panel, his position was adopted by the Supreme Court.
During his career, Harvey also established and directed the White Collar Crime and Corrupt Government Practices Division of the New Mexico Office of the Attorney General, served as a New Mexico Governor's General Counsel and Legislative Liaison, and was the first Superintendent of the New Mexico Department of Regulation and Licensing.
Harvey earned a B.S. degree in biology, served in the military, and then attended and graduated from the University of New Mexico School of Law in 1971. He is licensed in both New Mexico and California, and has practiced in other states as pro hac vice counsel. He has a Martindale-Hubbell rating of AV Preeminent.
Representative Cases
| | |
| --- | --- |
| California | Oakland Hills catastrophic fire; high rise commercial office building fire |
| New Mexico | Cerro Grande (Los Alamos) forest fire; tomato plant growing facility fire; race horse breeding farm fire; commercial business and storage building fire |
| Nevada | Chemical manufacturing and storage facility fire and explosion |
Professional Affiliations
State Bars of New Mexico and California; US District Courts-- Southern and Central Districts of California, and Arizona; and, US Court of Appeals--Tenth Circuit; pro hac vice admissions in the US District Court of Nevada; State Courts-- Nevada-Clark County District Court, Arizona- Maricopa County District Court, and the Arizona Court of Appeals.
American Judges Association (N.Mex. Judge's Delegate), the American Bar Association, the New Mexico Appellate rules Commission, and the New Mexico Code of Judicial Conduct Commission